Marion Philpotts-Miller
Marion Philpotts-Miller

, principal and managing partner of Philpotts Interiors, was born and raised in Hawai'i by her interior designer mother, who helped her appreciate the aesthetic of refined South Pacific living. Philpotts-Miller's approach to design is inspired by the contemporary urban style she picked up during her years in San Francisco, where she began adopting the thoughtful, purposeful and amusing style she is known for today.

What is your design philosophy?

Be true to yourself and true to the client. Don't impose your values on others. Instead, acknowledge who they are and interpret their personal and professional aspirations. Also, listen to the voices of design legacy and the importance they play in design through art, craftsmanship and culture. With this you can balance pragmatism and beauty, simplicity and restraint, and liability and awareness.

What is your advice to future architects, builders or designers?

Do your part to contribute to the smart and sustainable planning and development of Honolulu. Whether it is increasing landscaping or preserving what's left of our mauka-makai view planes, let's embrace and augment our natural resources so we can reinvent ourselves and create a contemporary, timeless environment.

Which of your projects are you most proud of and why?

Hotel Wailea is a recent one that comes to mind. It is a story of organic reinvention and about turning big ideas into bigger moves. We worked with the Hotel Wailea team to turn a tired property that used to be a private Japanese club into a romantic getaway worthy of becoming Relais & Chateaux's first Hawai'i location. It's become internationally recognized for its fresh and vibrant atmosphere and is a true destination for couples from around the world. There's your Valentine's Day idea for your significant other.

Where do you find inspiration for your design projects?

Travel and the subsequent exposure to the human, natural and built elements of other cultures provide a great deal of inspiration. These experiences are the foundation for authentic design—design that's grounded in place.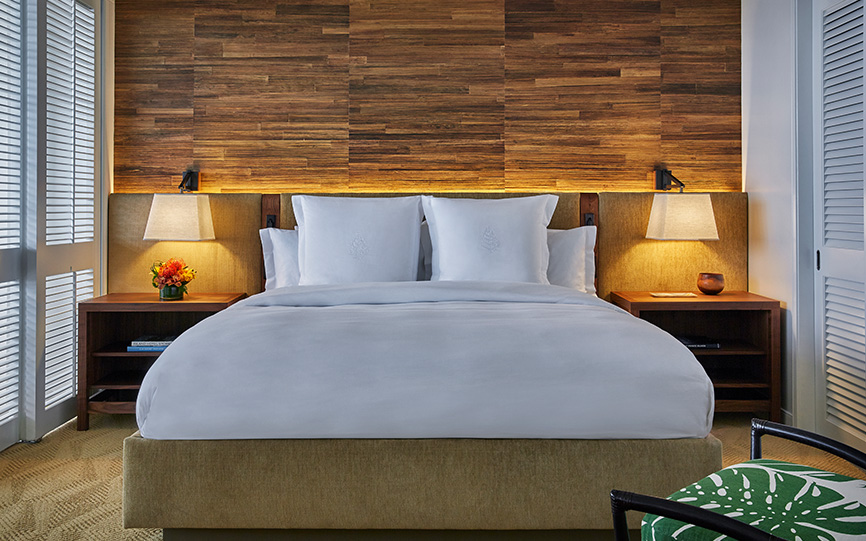 Are there design and build challenges specific to Hawai'i?
Unfortunately, there are many. Up front, there can be a lack of access to certain products, along with a lack of the understanding that comes with exposure to the processes that create them. On the back end, the cost of transporting these products to Hawai'i can be very high. But I think this ultimately spurs a level of resourcefulness and innovation with our local designers that doesn't necessarily exist elsewhere.
What is some advice that got you to where you are today?
I have been the recipient of a lot of great advice, but my first work experiences out of school were incredibly formative. Just out of design school in the 80's, I worked for the fashion company Esprit Corp in the architecture department. It was also a place where work and play went hand in hand. The company culture was unique, from in-house yoga to tennis lessons in the Esprit Park—you really wanted to be there. The resulting output was fresh, innovative and profitable.
Here at Philpotts, we aspire to be on the same plane as Espirit, from offering yoga classes to a wide range of professional development opportunities. Make the most of what you do. You only get one journey, so make it count.
In San Francisco, Chip Conley was an inspiration and fantastic mentor. His approach to hotels for Joie de Vivre taught me so much about the nuances of hospitality design. In Hawai'i, Jon McManus of Hotel Wailea has served as an inspired visionary, always encouraging out-of-the-box thinking. And I've learned so much from all of my business partners along the way—most notably Jonathan Staub and my mother, Mary Philpotts. Jonathan has this incredible ability to bring big ideas to fruition without fear and sell it. He has taught me so much about seeing design from the client's perspective. As the founder of Philpotts Interiors, Mary's entrepreneurial spirit gave me the courage to go for it on my own in San Francisco. Today her energy and role modeling are my greatest gifts. I honor her here in Hawai'i.
Principal and Managing Partner

Philpotts Interiors

SENIOR ARCHITECT

Allana Buick & BERS

SALES AND MARKETING DIRECTOR

Pono Stone

PRESIDENT

Nordic PCL Construction, Inc.

PRESIDENT

Graham Builders

PRESIDENT R.M.E.

Homeworks Construction

PRESIDENT | MINATOISHI ARCHITECTS

Minatoishi Architects

Vice President of Development

James Campbell Company

Vice President of Development

Trinity Investments

President & CEO

Ahe Group

President

Stanford Carr Developments

Senior Vice President of Development

The Howard Hughes Corporation

President

Clifford Planning & Architecture