Local Flavor
Island Sushi & Grill and Zenshin Asian Restaurant are one-stop shops for Hawai'i eats in Vegas
When Chef Terence Fong first arrived in Las Vegas in 1979, it wasn't to build a culture of local Hawai'i food in the ninth island. A Kaiser High School grad born and raised in Hawai'i, he set out to study hotel administration at the University of Nevada, Las Vegas, and found part-time work at Hibachi Hut—a mom-and-pop Japanese restaurant in the old Maryland Square shopping center across from The Boulevard mall. He was also working his way up at Caesars Palace and spent the next 15 years as a chef at the resort's gourmet Bacchanal Room and famed Palace Court restaurant. It was there Fong began experimenting with Eurasian flavors, citing Honolulu chef Roy Yamaguchi as one of his influences.
From there, he did a stint downtown as a sous chef at the award-winning French restaurant Andre's, the only Michelin-starred standalone restaurant in all of Vegas. Fong went on to serve as executive chef at Gatsby's at MGM Grand until 2000, when he signed on as a partner and executive chef at the Summerlin location for Osaka Japanese Restaurant. Later he served as culinary director at the Asian fusion restaurant Malibu Chan's and as executive chef at Wolfgang Puck's Chinois restaurant at the Forum Shops at Caesars.
Diving into food and beverage consulting in 2008, Fong fell into a bakery operation making malassadas and bagel chips for the California Hotel & Casino and ended up renting a retail front inside Island Sushi on Eastern Avenue, where the business took off.
For good reason—the malassadas are perfection. Crispy on the outside, soft and airy on the inside, these aren't the kind of malassadas that deflate when you bite into them or taste artificial when you hit their custard-filled center. The wholesale operation now makes nearly 6,400 malassadas a month, 5,600 of which are fried, sugared and shipped frozen to the Big Island for distribution at the isle's seven 7-11 retail stores.
Is there anybody else who makes malassadas in Vegas? "A lot of people try to," says Fong's son, Danial, who heads up marketing and HR operations at both Island Sushi & Grill and Fong's other restaurant venture, Zenshin Asian Restaurant, inside South Point Hotel & Casino. "We're always tweaking the recipe to make it better.''
Fong was called back to Caesars Palace to work as executive chef at Hyakumi Japanese Restaurant & Sushi Bar for a short time before deciding to buy out Island Sushi's previous owner in 2009. Two weeks in, he kicked off the restaurant's very first Sunday brunch. "It's one of our busiest days now," Fong says.
With 67 seats on the sushi side of the restaurant and 20 seats for guests dining on menu items off the grill, Island Sushi & Grill still has the look and feel of a small mom-and-pop shop even though it brings in six times more sales today than it did before Fong got involved.
The poke counter is a major draw for Hawai'i transplants looking to order by the pound and take it to go, but it's the plate lunch and all-you-can-eat sushi that brings the restaurant its most robust following. "A lot of our locals love it for when they have guests in town," Fong says. "They don't have to worry about somebody ordering lobster a la carte." It isn't a typical serve-yourself buffet line, either—the sushi is made fresh to order and delivered to the table.
No surprise, Island Sushi & Grill is popular among kama'aina who have relocated to the ninth island and brought with them a hankering for old favorites like plate lunch, poke and sushi. "Everybody comes in because they want to chit chat with everybody and talk story and have their coffee," Fong says. "It's just like back home."
But the restaurant also gets Vegas natives and visitors who have never had a real Hawaiian plate lunch before. Between the sushi, plate lunches, bentos and malassadas, the restaurant is a one-stop shop for the whole Hawai'i dining experience. "Minus the ocean," Danial laughs.
Island Sushi & Grill operated out of a second location at the Plaza Hotel & Casino between 2011 and 2013, after which the opportunity presented itself to spearhead a new restaurant opening at the South Point Hotel & Casino that same year. Fong's name came up along with a number of other Las Vegas chefs, and after a series of interviews and tastings, he was selected as a frontrunner for the new eatery.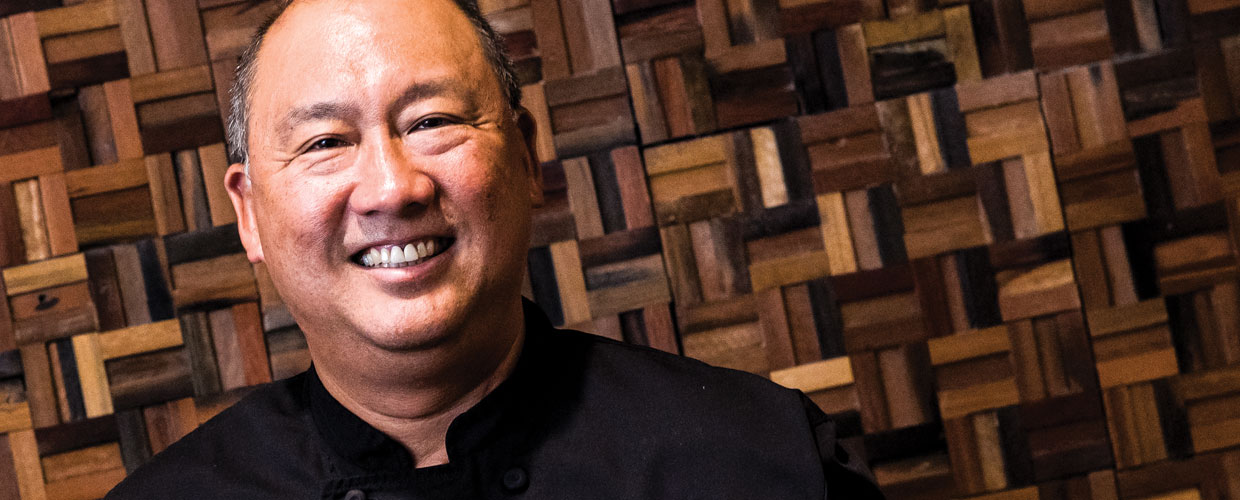 But first, Fong had to meet with South Point owner Michael Gaughan, a casino mogul who owns and operates several properties throughout Las Vegas. "Mr. Gaughan, I want to thank you," Fong said. "From my family to yours."
Turns out Gaughan was no stranger to the Fong family. "What do you mean?" Gaughan asked. Fong explained that his father ran one of the travel agencies that brought groups from Hawai'i to Las Vegas more than 50 years ago. Among the hotels the agency worked with was the Gold Coast Hotel & Casino, which Gaughan built and operated before merging his Coast Casinos brand with Boyd Gaming in 2004.
"Who's your father?" Gaughan asked.
"Herman Fong," he replied.
"Herman was your father?" Gaughan asked before shaking Fong's hand. "You got the job."
"That was it," Fong laughs. "With a firm handshake, he said, 'You're in.' It was very old school."
Having brought several of his employees over from the shuttered Island Sushi & Grill location at the Plaza, Fong reports that nearly half of the staff at Zenshin Asian Restaurant are from Hawai'i—in fact, they cover all four major islands. "We call them our 'ohana," Danial says.
After all, the restaurants are a family endeavor. Besides Danial—who sounds like he could have grown up in Hawai'i, probably from his years talking story with the clientele at Island Sushi—Fong's older sister, Radine, is also in on the family business. She managed the kitchen at Island Sushi's Plaza location before it closed down and subsequently moved over to the Eastern Avenue location, where she still works today. Fong's daughter, Stefani, worked as a baker, server and then as a manager at the Plaza location and later the restaurant's flagship before moving on to find her own way. "I've come and gone, too," Danial says, "But now I'm back for good. It's home."
Rolling over the concept from Island Sushi, Zenshin features Japanese fusion cuisine with influences from Chinese and other Asian cuisines. The centerpiece in the restaurant's casual yet elegant setting is a large sushi bar and full liquor bar that seats up to 25 people. Large, comfortable booths and a few smaller tables round out the restaurant's main dining area. To the right, a secluded private dining room seats 15 at a large granite table suitable for meetings and wine dinners alike. An adjacent room on the left seats up to 100 for events, parties and banquets.
Sushi is a mainstay—if it ain't broke, don't fix it—but the menu also includes ramen, hibachi salmon, braised beef short rib and trendy items like sushi burritos. Zenshin's twice-daily happy hour draws quite the following, and both Zenshin and Island Sushi & Grill are known for their oxtail soup, a Hawai'i staple.
The ramen and poke craze that's been growing like wildfire on the mainland hasn't found quite the same footing in Vegas that it has in places like Los Angeles, but Fong is optimistic. While many of the poke ventures that have opened in Vegas over the last few years are already closing shop, Zenshin and Island Sushi show no signs of slowing down.
The city is growing at light speed, especially with an NFL team, professional hockey team and potentially a professional soccer team in the pipeline. The U.S. Census Bureau predicts that Nevada's population will double in size by 2030, and with basketball season coming in August, bringing hordes of visitors to the South Point from Hawai'i and Southern California, Zenshin Asian Restaurant is sure to reach even more of its target demographic.
Now 56 with two granddaughters occupying his time, Fong is eventually looking to pass the torch to Danial and Zenshin Corporate Chef Yoji Shimonishi. "I worked a lot as a single parent," Fong says. "I had to get a nanny to help out with my son and daughter. So now I want to try to be there not only for them but for their kids."
But he won't be relinquishing his title for several years. "And it won't stop me from trying to launch other projects," Fong says. Sounds like Hawai'i transplants have something to look forward to.
Island Sushi & Grill
9400 S. Eastern Ave. Ste. 102–103
Sushi: Open daily 11:30 a.m.–10 p.m.
Grill: Open daily 8 a.m.–10 p.m.
Poke Shack: Open daily 10 a.m.–9 p.m.
Zenshin Asian Restaurant
9777 S. Las Vegas Blvd.
Open daily 2 p.m.–6 p.m.
Sunday–Thursday 11 a.m.–11 p.m.
Friday–Saturday 11 a.m.–1 a.m.