Savan Patel, founder and managing principal Infinium Interiors
Savan Patel has some "big, hairy, audacious" goals for Infinium Interiors. He dreams of expanding his corporate furniture business from commercial to residential design and is looking to expand operations to the mainland and Southeast Asia. He also aims to triple sales in the next two years.
They're ambitious goals for a company that was potentially a recipe for disaster. Patel only had a few years of experience in the industry and financed the endeavor with a good chunk of his own retirement savings. Yet his leadership and business strategies have brought the company success in the three years since it was founded.
"You've got to sacrifice early and just go off and do it," Patel says. "Because the longer you wait, the more stuck you're going to be in your ways. I think it's now or never. You have to wake up and you have to be excited about something every day."
Patel didn't grow up dreaming of owning a commercial furniture business. Instead, he spent nearly 15 years in the U.S. Navy and rose to chief of the boat—the highest enlisted rank—on fast-attack submarines.
Unfortunately, a DUI arrest and charge derailed his career. He left the Navy with a "huge black mark" and no clear career path.
"When something like that happens, the world just collapses," Patel says. "You wonder how you're going to be able to get through it. But I think the most important lesson that I learned from that was accountability. I didn't try to get out of it. I didn't make any excuses about it. And I think that really did help as I moved forward from it."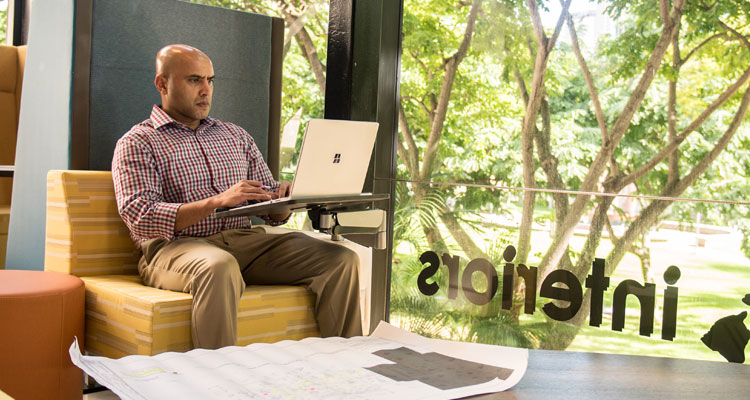 On unfamiliar ground away from the military, Patel briefly considered being a defense contractor before he decided to take a random leap into the office furniture business. He worked for a local company for three years before deciding to branch off on his own. Patel started Infinium—an amalgamation of the words infinity and continuum—out of his 600-square- foot condo while studying for his MBA at the University of Hawai'i at Manoa. Between his classmates in graduate school and his government and military connections, Patel had a solid network and was rewarded early on with some big contracts with The Hawaii Group and JN Group—affirmations that Infinium could thrive as a new face in a competitive local industry. "It showed that you can beat out your competitors even as an emerging business," Patel says. "You just have to have the will."
He admits there were hiccups along the way. Patel had leadership experience but not as a business owner, so he had to learn on the job. He realized it was better to outsource services like accounting and payroll than get caught up in the day-to- day minutiae that would have taken focus away from the business.
He learned the importance of clearly communicating expectations with employees and potential hires, and how the business's cash-flow cycles affected the company.
"He's a natural leader in the sense that he always wants to take charge and he's always looking forward, thinking of new ideas, how to improve, how to be better," says Ariel Moniz, the first of Patel's four full-time and two part-time employees. "And he has a good work ethic. So the way he works, people want to follow."
"It's easy enough for me to just shout all the answers," Patel says. "But people can't grow if I keep giving them the answers, right? And I've got to make it a little hard for them and make it a little more challenging and I've got to get them to think on their own. It's important for people to understand that they've got a lot of stake in the game, whether they realize it or not."
For Infinium Interiors, the objective of the game is to set itself apart in the commercial furniture industry with its attention to service. The company employs an interior designer to help clients create a space best suited for their needs.
Patel says he plans to tap the residential furniture market, working with developers to furnish the micro units that are starting to pop up in Hawai'i. He is also looking to get into import-export opportunities with Southeast Asia, create a pre-owned furniture leasing model, expand to the mainland and potentially jump into some local, small-scale manufacturing. All in addition to widening its niche by delving into hospitality, education and health care.
Patel operates out of an all-glass office in Infinium's 1,400-square- foot, design-centric space in Downtown Honolulu. One bears a scribbled reminder of his vision for the company—$10 million by year five, $20 million by year eight. "It's aggressive, but we're smart about it," Patel says with a smile. "I realize these are numbers on the board that anybody can throw up, so there's got to be a good strategy behind it to get us there."