LEADERSHIP
With Home Tours Hawaii, cuisine and interior design intersect on the Big Island

Hawai'i's construction industry leaders weigh in on good design and give their 2017 industry outlook.

Linda Schatz, founder and managing member of Schatz Collaborative, discusses becoming an entrepreneur, moving big projects forward and work-life...
ENTREPRENEUR
Toby Tamaye

Toby Tamaye on the next big thing in marketing
How Hawai'i's startup community is faring after four years of ideas, cohorts and capital

Kahala Associates is now List Sotheby's International Realty. Myra Brandt and Jeff Fox explain.

How Shonna Hammon of MICO Mechanical Corporation grew a $20 million-dollar enterprise
ISLANDS
This contemporary arts festival is putting Hawai'i on the map for contemporary art

The Four Seasons Resort Oahu at Ko Olina, the Surfjack Hotel & Swim Club and the Hawaii Prince Hotel...

This cozy spot in Topa Financial Center is a go-to for baked goods, breakfast sandwiches and salads downtown.
PACIFIC EDGE NEWSLETTER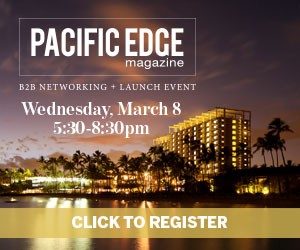 POPULAR POSTS