LEADERSHIP
With Home Tours Hawaii, cuisine and interior design intersect on the Big Island

Hawai'i's construction industry leaders weigh in on good design and give their 2017 industry outlook.

Linda Schatz, founder and managing member of Schatz Collaborative, discusses becoming an entrepreneur, moving big projects forward and work-life...
ENTREPRENEUR
Toby Tamaye

Toby Tamaye explores the latest marketing trends for 2017 from the Hawai'i Tourism Conference.
After four years of ideas, cohorts and captial, Hawai'i's startup community is reporting substantial growth,

Myra Brandt and Jeffrey Fox merge to create List Sotheby's International Realty.

Shonna Hammon leads a team that focuses on installing smart HVAC systems and kitchens in commercial and municipal buildings.
ISLANDS
Inaugural exhibition presents Honolulu as a global platform for contemporary art.

The Four Seasons Resort Oahu at Ko Olina, the Surfjack Hotel & Swim Club and the Hawaii Prince Hotel...

Grab a baked good, breakfast sandwich or salad at Cafenity.
PACIFIC EDGE NEWSLETTER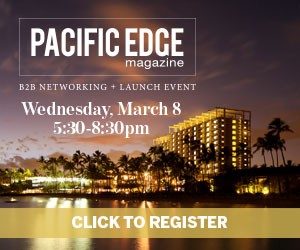 POPULAR POSTS